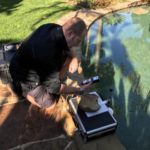 Underground pool leak detectionIt's something that many homeowners don't consider when they move into a home with an in-ground pool or have one installed on their property: leaks. A leak in your pool can cause extensive water loss, leading to a decision between expensive utility bills or more expensive repairs. The only way to prevent this costly damage is preventative maintenance. Proper pool upkeep necessitates a team that comes in, patches weak areas and makes sure your pool isn't susceptible to any leaks. That's where we come in.
Dependable In-Ground Pool Leak Detection in San Diego and La Jolla
When you need pool leak detection and repair in the San Diego/La Jolla area, you need the experts at Swim Care Pool Service. For over 30 years, we're the company that customers in the region turn to for a variety of services related to their in-ground pools — from leak detection and repair to cleaning and sanitation, we're your answer for reliable pool maintenance.
Read what our clients say about us:
For more information or free no-obligation quote call today.
Common Causes of Pool Leaks
Pool leaks are often not preventable, which makes early detection all that much more crucial. They can be caused by aspects completely out of your control, like tree roots expanding around the pool or a water main break. Despite your best efforts, you may not be able to keep a leak from stemming in your pool or your water pump.
Your best option in response to unforeseen causes of leaks in your in-ground pool is to hire the best team available when it comes to leak detection. For customers in La Jolla and the greater San Diego area, that's Swim Care Pool Service.
Preventing Leaks in Your San Diego or La Jolla Pool
It's not always easy to spot a leak in your pool, especially when you aren't keeping a daily eye on it. Here are some ways to tell if your pool has developed a leak likely to cost you big money in the long run:
You're losing water or have to refill your pool frequently
The grass or soil around the pool is soggy
There are cracks in the pool or around the pool decking
The pool deck is warping
Most of the time, you won't be able to identify a leak until it has already become a costly problem. Hence, it's important to receive regular tests and maintenance from a team of leak detection experts. The pool leak detection repair team at Swim Care Pool Service can do regular checks for leaks and other cracks, ensuring that even if your pool does spring a leak, we'll catch it before it becomes a larger issue.
We're La Jolla and San Diego's Favorite Pool Service Experts
Our long history of service in the San Diego and La Jolla areas give us more than just experience and expertise in all ranges of pool services, from leak detection to pool repairs. We've built a reputation in the region and we're known for being reliable. As a result, when you call Swim Care Pool Service for all your leak repair and in-ground pool upkeep needs, you're getting the peace of mind that comes with using a local industry leader that understands your needs and how to make our services fit your budget.
Therefore, if you're interested in hiring the best pool leak detection and repair team in the San Diego area to take care of your pool? Give us a call at 858-888-5955 or go online and fill out our contact form to learn more about how you can put your in-ground pool in the capable hands of the pros at Swim Care Pool Service today.
Nearby Places
---
Things To Do In San Diego
San Diego Zoo
SeaWorld San Diego
USS Midway Museum
Old Town San Diego State Historic Park