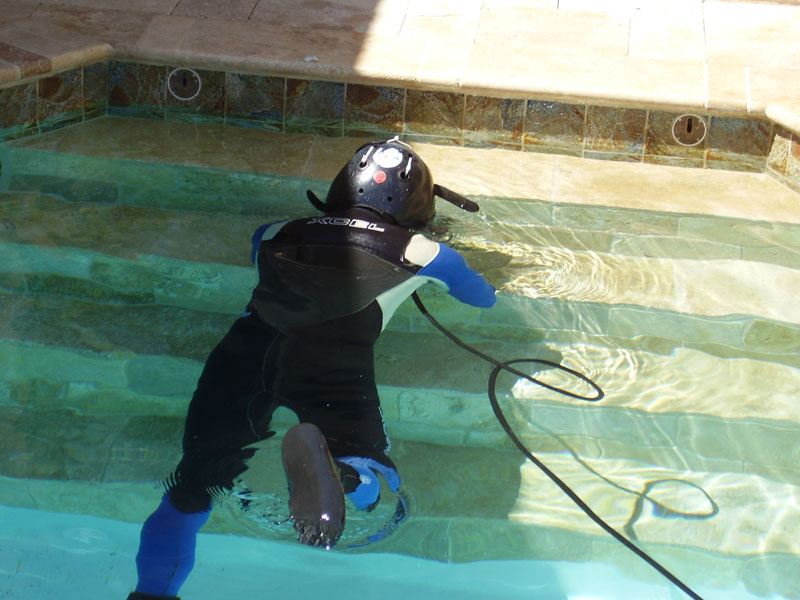 You may not notice that the pool in your San Diego home is leaking until it's become a large, expensive problem to fix. It's important to have regular leak inspection and preventative maintenance performed on your pool, to find tiny leaks before they turn into big cracks – and your lovely back yard becomes a swamp. San Diego pool care specialists can help you with leak detection, repair, and prevention so that this investment can last a lifetime.
What is Leak Inspection Service?
Finding and fixing leaks in your pool begins with leak detection. A professional San Diego leak inspection service, with licensed, trained techs will begin by performing a thorough and extensive inspection of your entire pool and spa area, including the pool deck and the pipe connections. With precision techniques, our team of techs can pinpoint even the smallest leak in your pool hot tub, or spa.
After a complete leak inspection, we issue a custom "Leak Detection Report" that outlines the status of your pool and plumbing. We use a combination of industry-leading practices and specially designed equipment to ensure that no leak goes undetected. Our report will give you all the information that you need to begin repairs and give you the confidence to evaluate different leak repair quotes so that you know that you're getting a fair assessment.
We're a locally owned and operated pool leak detection company in San Diego – we're your friends and neighbors, and we strive to give the most accurate, ethical evaluation. Our reports offer multiple solutions to and leas in your pool and spa that we find, working within your budget and schedule.
Using Electronic Leak Detection Devices
Electronic leak detection equipment can help precisely locate and leaks in your pool or spa. At Swim Care Pool Service, we use the most advanced leak detection tools in the industry and our technicians are trained to find even the smallest variance to determine where and how large the leak in your pool is. Our high-powered electronic equipment and listening devices penetrate to find leaks that are in either the structure of the pool or in your underground plumbing.
State-of-the-art electronic equipment allows us to locate small leaks that other companies can't – before they become a large problem. Using high-powered listening devices, we can scan deep underground – even underneath cement slabs. Our accuracy is so precise that we can allow a fix with minimal damage to your pool deck, patio, or lawn. This precision means that you'll be able to fix the leak without a large outlay of money and time – saving up to thousands in repairs.
Our listening devices aren't just limited to underground plumbing – we use them throughout your pool complex to detect leaks in may types of water features in your home, including spas and fountains.
Visual Leak Inspection and Dye Testing Your Pool
A long time in the swimming pool leak detection industry and repair service has made the techs at Swim Care Pool Service experts in visually determining where leaks in your pool and spa come from. We understand signs that indicate larger leaks, and even minor ones. This gives us a place to start, but we also incorporate leading-edge leak detection equipment so that you're getting the right information to fix your pool.
At Swim Care Pool Service, we don't just rely on our eyes. We also use other industry-specific leak locating devices, including waterproof cameras, light conduits, and other equipment capable of entering pipes and other hard-to-see and reach places. These cameras inject dye into possible trouble spots so that we can be sure where the leaks are coming from. Dye testing is especially useful when combined with electronic efforts.
Pressure Testing for Your Swimming Pool
Pressure testing is the most reliable way to determine if a pipe is leaking or if its integrity is still intact. We can be sure that a pipe is leak-free if it passes the pressure test; if it fails, we know without a doubt that it's helping. Even the most complex plumbing systems are no challenge for pressure testing from a Swim Care Pool Service technician.
If we find a pipe that fails the pressure test, we then use our electronic equipment to find exactly where the leak is located, so that we can help you determine the best fix for your plumbing.
Call Us Today!
Finding leaks when they're small can mean a world of difference in your swimming pool repair costs. At Swim Care Pool Service, we're the experts in leak detection in the San Diego area. Don't wait until you notice a large drop in water levels or a burst pipe – give us a call or visit us online today to schedule a leak inspection and book preventative maintenance visits!
Read our rave reviews